RECOWARE Kft. http://www.recoware.hu

IT Research and Development Co. Ltd.
Today, our activities are focused on providing services related to the AFIS systems as well as development of AFIS terminals (compliant to ANSI-NIS ITL 2007, FBI EBTS, FBI WSQ standards and recommendations) associated to the AFIS systems

KFKI RECOWARE Kft. was founded in 1st January 1991 by the KFKI IT Plc. Antecedents go to KFKI Measurement and IT Research Institute. Members of the core group of RECOWARE were working there on development of computers with parallel architecture (TPA58x, TPA XP-1, TPA XP-2), and operation system software, respectively.
Looking for a usage appropriate for the realized multi-processor architectures, the company came to the task of fingerprint identification or that of pattern recognition.
Our first scope of activities included three main areas:

Development of fingerprint and palmprint identification system for criminalistics (Automated Fingerprint and Palmprint Identification System, AFIS), supply and maintenance of regional systems and upgrading our RECOderm AFIS system algorithmically and technically
.
The other relevant area was that of hardware development. What we developed was not a general purpose multiprocessor machine, but a special one, the user of which was the Military National Security Service of the Hungarian Defense Force. Our purpose-built equipment provided many times more efficiency at resolving special problems.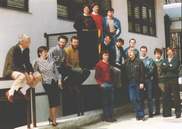 Third area was development of applications based on the classical image processing procedure applied primarily in industrial quality control and qualification procedures. One of such application was the classification of honey or detection of tomato mold present in the tomato purée production or detection of mold fungus during milk processing.